At the opening ceremony of the 13th Interethnic Interfaith Leadership Conference held in Room Rayburn HOB on the morning of December 10, the international human rights day, its host, Citizen Power Initiatives for China (CPIFC), honored three outstanding human rights champions with its 2018 Citizen Power Awards. The honorees are Dr. Katrina Lantos Swett, Ms. Mihrigul Tursun and Mr. Bao Tong.
Congressmen Jim McGovern and Chris Smith and Mr. Carl Gershman, president of National Endowment for Democracy, presented the 2018 Citizen Power Award trophies to the three honorees respectively.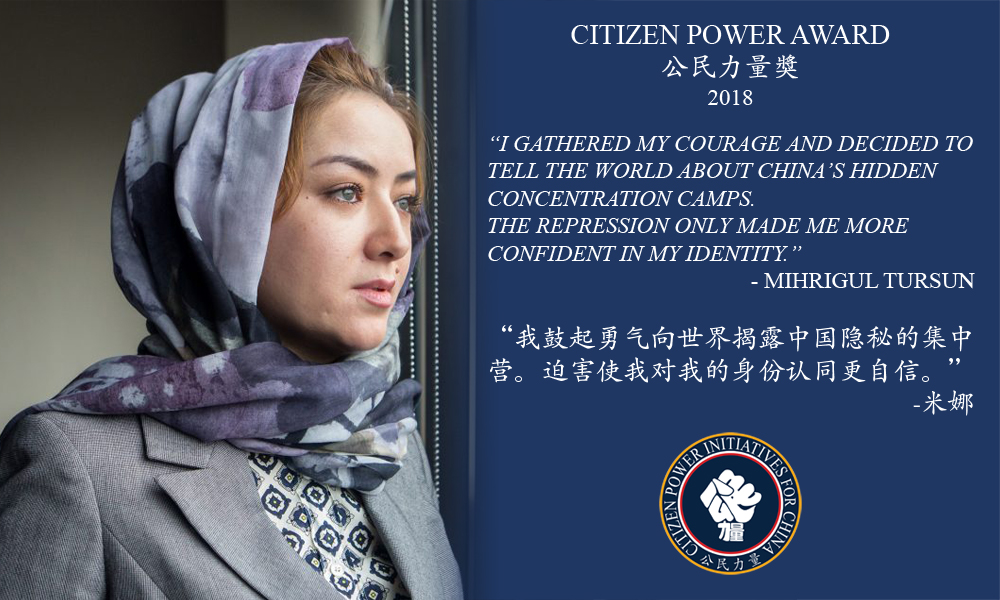 The following is the award tribute to Ms. Mihrigul Tursun and her acceptance speech.
CPIFC Tribute to Ms. Mihrigul Tursun
This honoree's personal bravery is humbling and incredibly inspirational. Mihrigul Turson was born in Kuerle City, Xinjiang. She is an ordinary Uyghur woman but has taken extraordinary courage and heroic action in helping to expose to the world the Chinese Communist regime's atrocities against millions of Uyghurs.

Mihrigul gave birth to beautiful triplets in March 2015. However, when she took her two-month old babies back to Xinjiang in May 2015, the Chinese police detained her and took her babies away from her. She did not see her babies again for another three months, and when she did, they were in hospital, suffering terrible health problems. Her oldest son later died.

Between May 2015 and April 2018, Mihrigul was taken into detention 3 times. Altogether she survived 10 months in the camps. Each time she was taken, police handcuffed her and put a black sack over her head. Each time, she suffered unbearable torture and mental torment.

The cells were so overcrowded that prisoners had to take turns sleeping. The conditions were filthy, with a single toilet in the room for 60 or more people. Some prisoners had not taken a shower in over one year. The prisoners were fed a starvation diet, often just a steamed bun or watery rice. Mihrigul suffered beatings that caused her hands to bleed. She suffered prolonged sleep deprivation, and electrocution so severe that she begged the guards to kill her.

Because both of Mihrigul's children have Egyptian nationality, the Egyptian Embassy in China intervened. Finally she was allowed to leave China for Egypt. Before boarding, the Chinese authorities warned her not to forget who she was and that her parents were still under the "protection" of China.

Mihrigul has shown tremendous inner strength in surviving China's modern-day concentration camps. As a 29-year-old grieving mother and torture survivor, she chose not to suffer in silence but to come forward to the world stage to tell the truth, to tell about the horrific suffering and cruelty that over a million others are still experiencing in China today, right now. While the Chinese Communists continue to lie and try to cover-up their attack on the Uighur people, Mihrigul's brave testimony has helped shine a light where there has only been darkness. For her extraordinary strength and her courage in coming forward as a public witness to crimes against humanity, Citizen Power Initiatives for China awards her this Citizen Power Award of 2018.
Ms. Mihrigul Tursun's Acceptance Speech
Ladies and Gentlemen! And dear friends at the Citizen Power Initiatives for China!Thank you so much for giving me this meaningful award.I am Mihrigul Tursun. I am blessed to have miraculously escaped from China's concentration camps or the so called "re-education centers." I spent a total of 10 months in these camps; I was starved and beaten. I suffered physical and psychological torture. And I was electrocuted in the infamous tiger chair. I am a mother who lost her son. I am a wife who was separated from her husband. And I am a daughter who may never see her parents again…This award means a lot to me because it gives me faith in the existence of humanity and justice in this world. I believe that this will also give hope to my people, millions of Uyghurs being tortured at this moment, that there is humanity, justice, and love in this world.I am now in a free world. I can breathe freely. I can speak freely. But my people, millions of innocent women, men, and children are facing unjust and inhumane treatment in China's concentration camps just because their language, religion, and ethnic and cultural identity are different from that of the Chinese Communist Party.I believe there is one power in the world that can stand against hatred, brutality, and atrocity, and it transcends ethnic, religious, and geographic barriers. And that power is humanity. It is the power of love, compassion, and tolerance. Thank you for your love. Thank you for your compassion.You have strengthened my will to be the proud and brave voice of my people. For me, this is not just an award; it is a responsibility. China's Communist government is carrying out an ethnic cleansing of innocent Uyghur people. I personally witnessed 9 deaths in three months alone. I stand before you as the only witness in the US of China's brutal concentration camps. And I promise you that I will continue to be the voice of those silenced, oppressed, and tortured Uyghur people and I will continue to tell the world about the Chinese government's crimes against humanity.I believe that this is a responsibility for all of us. Every person who can speak freely in the free world has a moral obligation to speak up and take an action on behalf of those silenced, oppressed, and tortured so that one day we can give back their faith in the existence of humanity, justice, and love.Thank you.