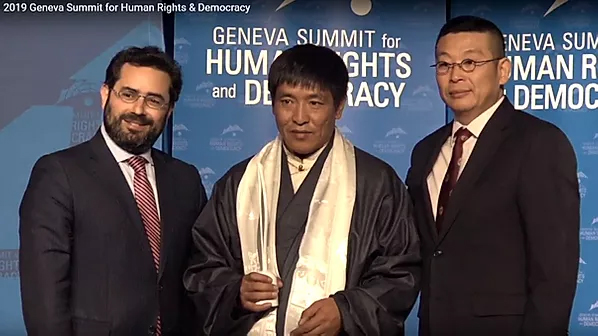 By: Yang Jianli
It has been an honor to be a part of the Geneva Summit over the past decade. Our annual assembly is a unique event, held in parallel with the UN Human Rights Council, which ensures that critical voices from oppressive regimes across the globe have a forum to stand up and speak truth to power.
Today we have heard inspiring testimonies by courageous men and women from around the world. They put their lives on the line to defend human dignity, freedom, and equality in their countries of origin.
We meet at a time when the Chinese government's repression is at an all-time high. And this month marks the 60th anniversary of the Tibetan National Uprising. It is fitting, therefore, that this year's award goes to a human rights hero who risked everything to shine a light on the abuses of the Chinese Communist Party in Tibet.
Dhondup Wangchen is a Tibetan filmmaker who showed extraordinary courage when he exposed the reality of Tibetan life under Chinese rule, through his ground-breaking documentary, "Leaving Fear Behind." This 25-minute film was described by The New York Times as "an unadorned indictment of the Chinese government."
The story of Dhondup Wangchen began in 2006 when he and Golog Jigme thought to create a documentary. They interviewed ordinary Tibetan people on their views of the Dalai Lama, and of the Chinese government in the year leading up to the 2008 Beijing Olympics.
Anticipating potential reprisals by the Chinese government, Dhondup Wangchen moved his wife, Lhamo Tso, to India, together with their four children, before creating the film.
In the winter of 2007-2008, Dhondup Wangchen traveled through remote areas of Eastern Tibet to conduct 108 detailed interviews. He collected 35 hours of footage over the course of five months. He did all of this with only a cheap video camera, and no professional training in journalism or filmmaking.
After the footage was smuggled out to his cousin in Switzerland for editing and production, "Leaving Fear Behind" was released on August 6th, 2008 — days before the start of the Olympics.
But at that point, Dhondup Wangchen, along with Golog Jigme, had already been in secret detention since the end of March for subversion charges related to the documentary. After several interrogations and torture while in detention,
Dhondup Wangchen was sentenced to six years in prison by Chinese authorities.
Following his release from prison, Dhondup Wangchen was kept under heavy surveillance. In December 2017, he finally fled Tibet for an "arduous and risky" escape to the United States, where he was granted asylum and currently resides.

Since he escaped from Chinese surveillance about one year ago, Dhondup Wangchen has continued to speak out against gross human rights violations committed by the government. He has said, "Tibet is a prison. Every year, the conditions get worse. More restrictions on traveling, practicing religion and culture, and severe limits on freedom of the press."
Against this backdrop, our honoree's critical efforts to expose China's abuses, despite severe risks for himself and his family, have become that much more important.
To so many Tibetans, Dhondup Wangchen's work allowed the truth of Chinese violations in Tibet to reach the rest of the world, at a time when Beijing was in the international spotlight for the Olympic games. By giving a voice to the voiceless, Wangchen truly exemplifies the values of the Geneva Summit for Human Rights and Democracy.
For all of these reasons, I am proud to present the 2019 Geneva Summit Courage Award to Dhondup Wangchen. As the inscription reads: "For inspiring the world with your extraordinary courage in the defense of freedom, democracy, and universal human rights."