Opening Remarks for the panel "Tyranny, Oppression and Atrocities in China" at the 2023 Geneva Summit for Human Rights and Democracy
By: Dr. Jianli Yang | May 17, 2023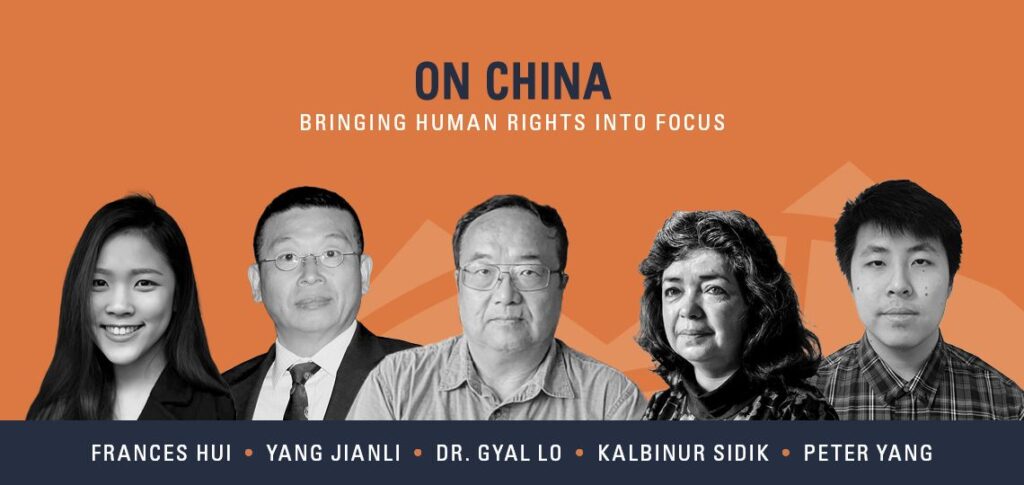 Back in 2016, on this very stage, I said "Long Live the Troublemakers." Today I want to say, "Long Live the Freedom Fighters."
Exactly one week ago, the Chinese government sentenced my friend and a prominent human rights defender Guo Feixiong to 8 years in prison. His "crime" was publicly appealing to China's leadership for permission to leave China to go to the United States to spend the last minutes with his dying wife. I will leave to his son Peter to tell the story of his father and his family.
One month earlier, the Chinese government handed down to another two friends, two prominent leaders of China's citizen movement, Xu Zhiyong and Ding Jiaxi, prison sentences of 14 and 12 years, respectively. Their "crime" was a private meeting and public statement criticizing Xi Jinping's Covid policy.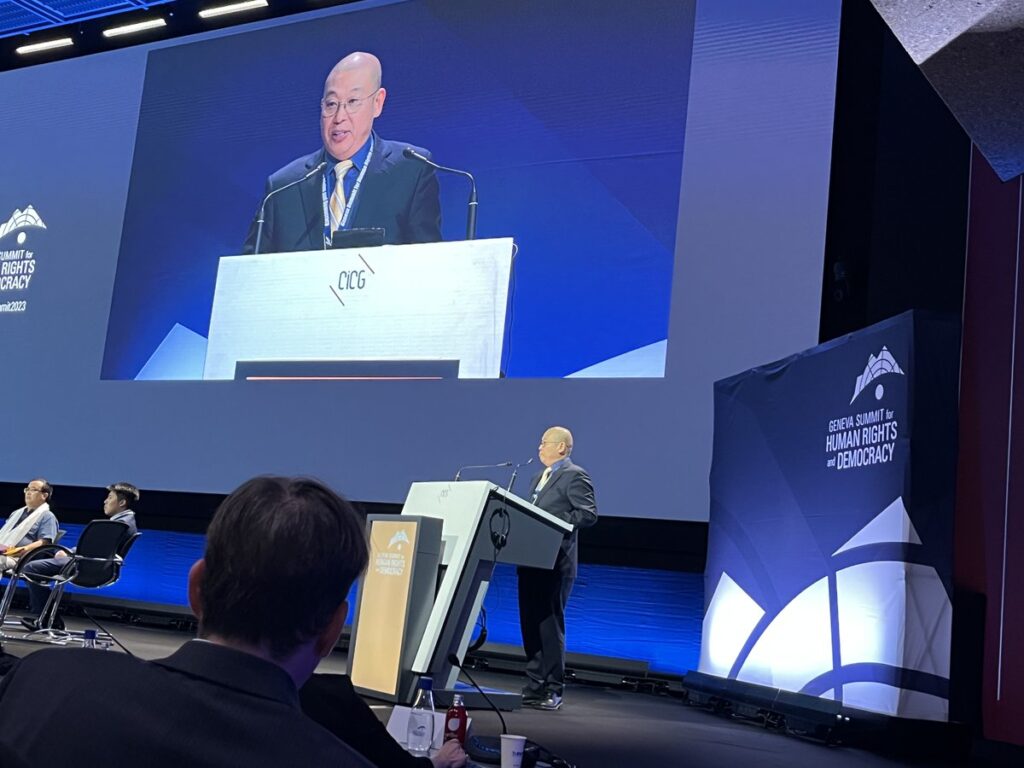 These three cases are but the tip of the iceberg of the Chinese Communist Party (CCP)'s gross persecution of the Chinese people. We have lost count of the numbers of people languishing in China's prisons for crimes of exercising basic rights enshrined in the Universal Declaration of Human Rights.
Indeed, human rights violations have skyrocketed since Xi Jinping came to power. Under his rule, China has continued to leave large fingerprints on the canvas of human events. Regarding human rights, these fingerprints place China at the scene of countless activities, both domestic and international, all thoroughly outside of the norm of a civilized, responsible world power, one it so desperately claims to be.
To review China's despicable human rights record, we need look no further than the communities my fellow panelists today represent.
Tibet faces new and worsening challenges from the CCP's repressive rule. Threats to Tibet's linguistic, religious, and cultural heritage have increased staggeringly in recent years. Now, as one example, an estimated 80 percent of all children in the Tibet Autonomous Region are separated from their families and educated in a massive system of colonial boarding schools. This cultural genocide is a deeply troubling manifestation of the CCP's o-going program of forced assimilation of ethnic and religious minority groups.
In 2019, sixty years after Tibet, an autonomy under the 1951 forced agreement of "one country two systems," was fully colonized by the communist China, Hong Kong, another autonomy under the "one country, two systems" framework, was to be plunged under the national security law. It has rapidly lost its freedom, the rule of law and civic culture, becoming another Shanghai in the political sense. This is political genocide.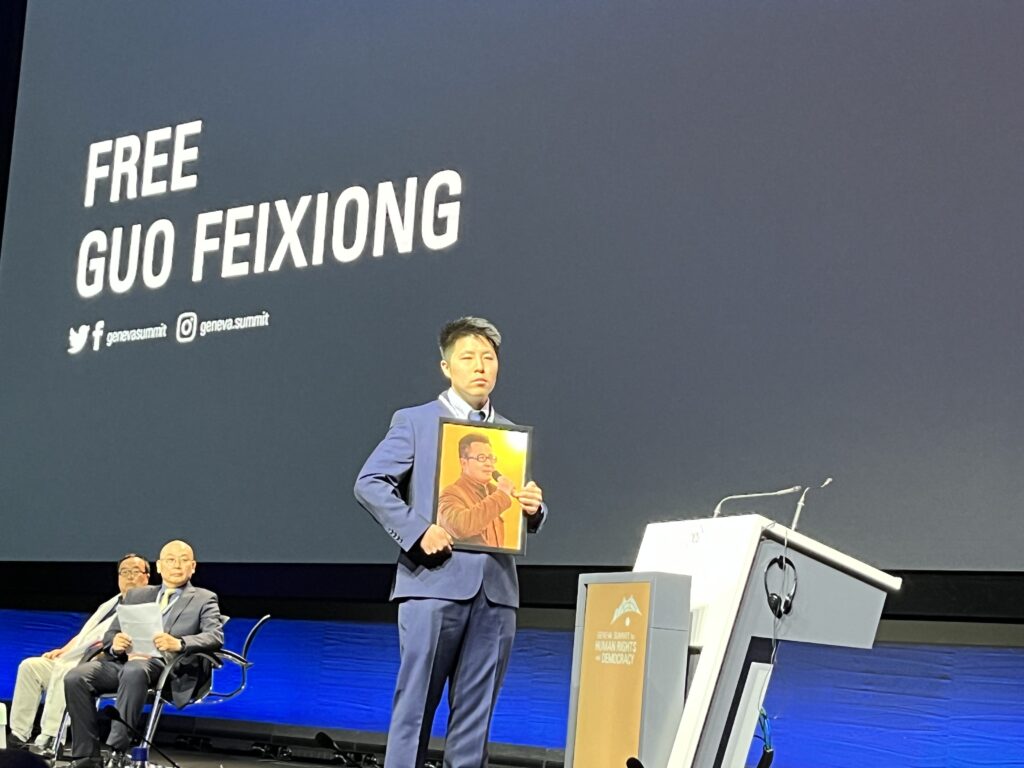 Millions of Uyghurs are suffering from unspeakable atrocities at the hands of the Chinese government. This includes forced sterilization of young women, enforced separation of families and placement of children in state orphanages, and mass incarceration of more than one million people since 2017 in detention centers and forced labor camps. Uyghurs are also being transferred to factories in China proper and used as modern-day slaves.
The case for genocide against the Uyghur people has been made through documentation of evidence by credible international human rights and academic institutions, as well as from numerous profoundly intimate and chilling first-person accounts. Today we will hear one of them.
Now, I want to return to the three imprisoned democracy leaders mentioned at the beginning. For each of them, the current incarceration is not their first.
For Xu Zhiyong and Ding Jiaxi, this is the second time, and for Guo Feixiong, this is the third imprisonment. This demonstrates that despite the extreme darkness, many in China have continued their fight for a brighter China. Their efforts and their sacrifices are often underappreciated, with many observers concluding China will remain authoritarian indefinitely. But the perseverance and determination demonstrated by these brave freedom fighters and the dramatic White Paper Movement of late 2022 have shown that change is possible.
That change, however, requires continued focus and international support for the courageous people who demand and struggle for freedom and democracy on the daily basis.
Thank you for providing us the opportunity to speak truth to power. Indeed, as freedom-loving individuals, organizations and countries develop policies and strategies with respect to engagement with China, they should listen attentively to the people, who not only share the same values but continue fighting on the front line for them.